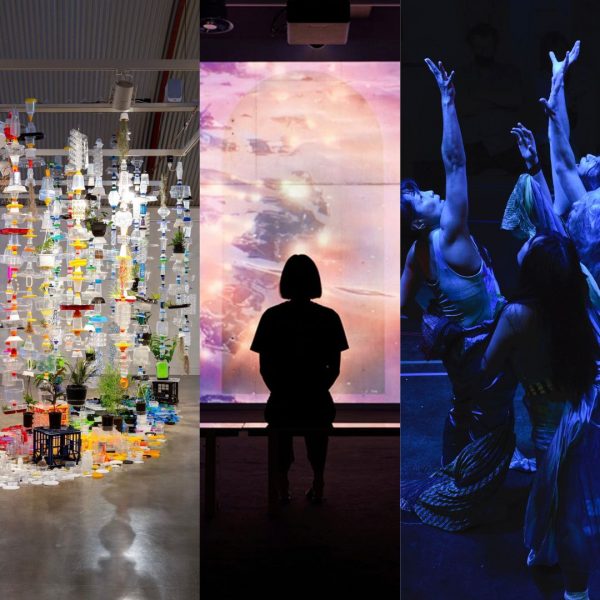 Lauren Berkowitz, Plastic Topographies with Indigigrow , 2022, 2×4 x2m, plastic and Indigenous edible and medicinal plants
Jodi Whalen, A new and different sun, 2021 Installation image, dimensions variable, No Show Carriageworks
Sally Sussman, Game of I-Lands, UNDERWATER
Today Bundanon announced the artists who have been awarded a residency for 2023. The Artist in Residence program is the largest program of its kind in Australia and spans a 30-year history. In 2023, over 150 multi-disciplinary artists and researchers will be in residence at Bundanon.
Rachel Kent, CEO said: "The Artist in Residence program supports Bundanon's reputation as a global arts organisation at the forefront of contemporary cultural production. We are thrilled to be welcoming such a diverse range of artists to Bundanon in 2023."
Bundanon's residency program is for visual and performing arts, literature, science, dance and music. It provides important career opportunities for artists and researchers to develop their work in an inspiring environment. Artists and researchers are hosted in purpose-built studios and rehearsal spaces on the organisation's secluded Homestead Site.
Arthur Boyd's vision that Bundanon would continue to provide a creative space for Australia's contemporary artists is at the heart of the program.
In 2023 Bundanon has offered two supported fellowship residencies, one for a First Nations and/or Torres Strait Islander artist, and another for an artist who identifies as living with disability. These two-week residencies are awarded on artistic merit and are based on the peer assessment panel recommendations. The 2023 Bundanon Fellowship recipients are Hayley Millar Baker, collaborating with Tai Snaith, and musician E.B.Kerr.
2023 PARTNERSHIPS
Bundanon's 2023 Artist in Residence program is supported through partnerships with the following organisations:
Accessible Arts
Australian Plays Transform
Australia Theatre for Young People
Branch Nebula
Critical Path
Jewellers and Metalsmith Group of Australia – NSW Inc
JamFactory
Shoalhaven Regional Gallery
South Coast Writer's Centre
Sydney Living Museums (The Meroogal Women's Art Prize)
Performance Space
Red Room Poetry
Sir William Dobell Art Foundation
William Fletcher Foundation
2023 ARTISTS IN RESIDENCE
Charlotte Algie, VIC
Rees Archibald, NSW
Anthony Bautovich, NSW
Lauren Berkowitz, VIC
Emily Bitto, VIC
Kiera Katerina Brew Kurec, NSW
Jon Butt, VIC
Kristone Capistrano, NSW
Cement Fondue, NSW
Emma Collerton, QLD
Nancy Constandelia, NSW
Vivian Cooper Smith, VIC
Alice Cummins & Meredith Connie, VIC
C.Z. Tacks, ACT
Julia Davis & Lisa Jones, NSW
Chloé Déchery, NSW
Rakini Devi, NSW
Joanna Dudley, International
Katie Dyer & Dr Kate Scardifield, NSW
Hayley Megan French, NSW
Agnieszka Golda & Jo Law, NSW
Ashley Goldberg, VIC
Jacinta Halloran, VIC
Fiona Harman & Steve Paraskos, WA
Mary Kavanagh, International
Lisa Jones, NSW
E.B.Kerr, NSW– 2023 Bundanon Fellowship recipient
Camille Laddawan, VIC
Kenneth Lambert, NSW
Andrew Lang, SA
Ruth Ju-shih Li, NSW
Beniamino Lopes, NSW
Iona Mackenzie & Hayley Does, VIC
Magnetic Topographies: Clare Britton, Kenzee Patterson & Therese Keogh, NSW
Louise Martin-Chew, QLD
Michael McIntyre & Christina Newberry, NSW
Dolla Merrillees, NSW
Spence Messih, NSW
Hayley Millar Baker & Tai Snaith, VIC – 2023 Bundanon Fellowship recipient
Tina Mitchell & Vivienne Linsley, NSW
Daniel Mudie Cunningham, NSW
Ashleigh Musk with Anna Whitaker & Jenni Large, NT
Lucy Neave, ACT
Michael Needham, VIC
NovelLab: Julienne van Loon, Kate Mildenhall, Leanne Hall, Michelle Aung Thin, Nicola Redhouse, Penni, Russon, Romy Ash & Rose Michael, VIC
Jane O'Sullivan, NSW
Jo Oliver, NSW
Sandra Parker, VIC
Sarah Plummer, International
Helen Pynor, NSW – 2023 Sir William Dobell Art Foundation Fellowship recipient
Jessica Rankin, International
Caroline Rothwell, NSW
Ebony Russell, NSW – The Meroogal Womens Art Prize recipient 2022
Lisa Sammut, ACT
Adam Sébire, NSW
Emily Sheehan with Jamaica Zuanetti, Keziah Warner, Madelaine Nunn & Roshelle Fong, VIC
Shopfront Arts Co-op, NSW
Graham Simms, NSW
Tracy Smith, NSW
Polly Stanton with Amy Spiers, Alan Hill, Jodi Edwards, Kelly Hussey-Smith, Marnie Badham & Professor Stephen Loo, VIC
Emily Stewart, NSW
Alma Studholme & Brett Studholme, NSW
Sally Sussman with Hsi-Chun Wang, Hui-Ling Koh, Katia Molino, Shy Magsalin, Michael Toisuta, Pei-Ching Hung, Po-Ting Chen, Valerie Berry, NSW
Sayoko Suwabe, VIC
The House That Dan Built: Danielle O'Keefe with Bedelia Lowrencey, Donna Hewitt, Grace Campbell, Jayden Selvakumaraswamy, Kittu Hoyne, Sofia Goulding & Tallulah Simpson, NSW
Jon Tjhia, VIC
Lindsay Tuggle, NSW
Jayne Tuttle, VIC
Emily Valentine Bullock, NSW – 2023 JMGA-NSW Award recipient
Julienne van Loon, VIC
Nina Walton, NSW
Yandell Walton, VIC
Cameron Webb & Matt Rosner, NSW
Jodie Whalen, NSW
Patricia Wood & Alex Karaconji, NSW
Claire Zorn, NSW
Ends