An overnight stay at Bundanon is a chance to slow down, connect with nature and enjoy unique cultural experiences. Explore the latest exhibitions in the Art Museum, visit the Homestead site and experience Arthur Boyd's Studio and the walking tracks.
Designed by Kerstin Thompson Architects, the Bridge opened in January 2022 and has recently been awarded the prestigious Sir Zelman Cowen Award for Public Architecture and a National Award for Sustainable Architecture at the 2022 National Architecture Awards, and the Sulman Medal for Public Architecture at the 2022 NSW Architecture Awards. 
The architectural design is driven by an ethos of sustainability and connection with the surrounding natural environment.  
Cooling within the bedrooms is managed through passive design principles: hand-operated window-louvres welcome the breeze and the parasol roof allows airflow above the bedrooms. Ceiling fans and radiant heating are installed in each room.  
The Bridge's 160-metre roof is lined with solar panels, used to power the site. As part of the sustainable water management practices, rainwater is harvested by the Bridge's roof, stored in a 300kl tank and used throughout the site. Wastewater is treated through black water processing and guests are asked to kindly keep water use to essential activities, to help minimise wastage. 
Bridge Features
Sustainable design featuring passive design principles and eco-technology

 

32 small cabin-style bedrooms with ensuites

 

Accommodates up to 64 people 

 

Landscape views 

 

Shared tea and coffee station

 

Communal dining room

 

Breezeway lounge spaces with outdoor furniture

 

Locally sourced blackbutt timber panelling

 

Two accessible rooms available 

 
Eco-friendly rooms
The bedrooms on the Bridge are small, cabin-style rooms, simply designed and minimally furnished. With limited space in the bedrooms, guests are encouraged to travel light. 
In the spirit of Arthur Boyd's preferred painting practice, en plein air, the sleeping quarters at the Bridge are designed so that you can experience the climate of Bundanon, in all its daily and seasonal variation. Feel the breeze, filter the sun, retreat into shade, hear the rain (frogs too).  
Designed as a cool, dark place to rest at the end of the day, the bedrooms are complemented by open air breezeways featuring outdoor furniture and views over the surrounding landscape. While staying at Bundanon, the whole site is available to you with picnic tables scattered across the grounds to make the most of the river views.   
The window design welcomes light into the room and guests may be woken by the rising sun. Light sleepers are encouraged to bring an eye mask to sleep with.
Room features
Simple, eco-friendly design 

 

Option for king size bed or two single beds 

 

Ensuite with toilet and shower

 

Towels and linens

 

Ceiling fan and heater 

 

Bedside tables

 

Small desk with stool 

 

Rooms painted with a colour palette drawn from Arthur Boyd's paintings

 

Accessible rooms feature fully accessible bathrooms – let us know about your accessibility needs
A shared experience 
Overnight experiences at Bundanon are designed to be shared. The dining room in the Bridge features communal dining tables for dinners and breakfasts. Meet like-minded art and design lovers over a meal and share stories about your day at Bundanon. Groups travelling together can be seated together upon request.
Connectivity
Staying at Bundanon is a chance to retreat from busy lives and connect with nature. Located in a remote bush setting, mobile phone reception is available but limited and your phone may not work from your bedroom. Similarly, wifi is available but may not work from your bedroom. Before you arrive, turn on your out-of-office and pack a good book.
Individuals & Couples
Bundanon does not function like a hotel. Individuals can book a stay package including meals and cultural experiences.  
View available stay dates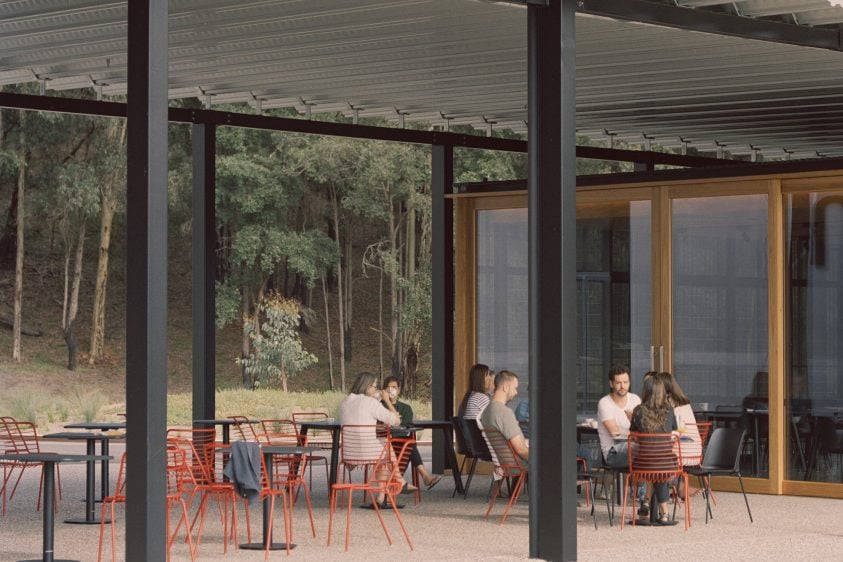 Corporate & private groups
The Bridge and the Boyd Education Centre are available for your next conference, retreat or private event.
Read more about venue hire
Weddings at Bundanon
With your guests staying onsite with you, Bundanon weddings are an unforgettable experience.
Read more about weddings
COVID-19 BOOKING POLICY
For your peace of mind and for the safety of our visitors, Bundanon will either move your booking to a future date or hold the amount paid as credit if you are unable to complete your stay at Bundanon due to any of the following COVID-19 related scenarios:  
You have tested positive for COVID-19 within the 7 days before your arrival 

 

Health authority guidelines require you to isolate at home 

 

Due to a government-mandated border closure or travel restriction, you can no longer access Bundanon 

 
Dates must be rescheduled within 18 months of the original booking and credits can be held for up to 18 months. Please see the full terms and conditions below for more information.  
Please note that if you are required to reschedule due to COVID-19, Bundanon will require documentation that supports the need to change your reservation. If evidence cannot be provided, the original terms and conditions apply. 
Please note: the above booking policy applies to individual stay bookings only. If you have a question about Bundanon's corporate, private group and wedding booking policies, please email venue@bundanon.com.au
TERMS AND CONDITIONS
PAYMENT 
For individual stay bookings, payment is required in full by credit card at the time of booking. 
CANCELLATION 
For individual stay bookings, full payment is required to secure your booking and payments are non-refundable. Should you decide to cancel within 21 days of your arrival, you will forfeit 100% of the booking charge. All cancellations must be received in writing. If you choose to cancel with more than 21 days' notice, you may choose to transfer your booking to an alternate available date. If no alternate dates are currently bookable, you will be issued a credit voucher to use within 18 months from the original stay dates. 
Bundanon reserves the right to cancel stay events at any time due to unforeseen circumstances such as natural disasters or insufficient demand. In this instance a full refund will be issued. 
ALCOHOL 
Only alcohol purchased onsite or included as part of your stay package may be consumed at Bundanon. 
PETS 
No pets are allowed on Bundanon property as it is a wildlife reserve. The only exception to this is service animals. 
SMOKING 
Smoking is banned throughout Bundanon's sites, except for within the designated smoking areas. These are located at the Art Museum site, on the car park side of the footbridge and near the water tanks located next to the Bridge. Please ensure all cigarette butts are disposed of in the bins provided at these two locations.   
AGE REQUIREMENTS 
Guests must be 18 years or older to book a stay package and must present valid photo identification matching booking details during check-in. 
Minors can accompany an adult, please inform Bundanon in advance if travelling with children. 
DAMAGE & LIABILITY 
You will be invoiced by Bundanon for any damage to property, equipment, buildings, artworks or grounds arising from your visit. 
Vehicles remaining on site overnight must be parked in designated parking areas at owners' risk. 
If you are asked to leave the property due to anti-social behaviour, no refund will be issued. 
Swimming in the river is not allowed by anyone visiting Bundanon. 
Please note: the above terms and conditions apply to individual stay bookings only. If you have a question about Bundanon's corporate, private group and wedding terms and conditions, please email venue@bundanon.com.au 
FREQUENTLY ASKED QUESTIONS
WHAT SHOULD I PACK?   
Towels, bedding and soap are provided in your room, but please bring anything else you might need including:  
Other toiletries: shampoo, conditioner and toothpaste 

 

Insect repellent 

 

Yoga mat – if yoga is included in your package 

 

Warm clothes, a hat and suncreen 

 

Sturdy shoes, if you wish to explore the properties 

 

Water bottle 

 

For light-sensitive sleepers: some light does enter the room, so bring an eye mask 

 

Hair dryer/shower cap, if you need one 

 

A good book: there are no TVs at Bundanon, so bring something to read during your downtime 

 
CAN I BOOK A ROOM FOR A DIFFERENT DATE, OR OUTSIDE OF A PACKAGE? 
Bundanon does not function like a hotel. Guests are offered the opportunity to stay as part of packages that include catering and cultural experiences. 
WHEN WILL MORE STAY DATES BE ANNOUNCED? 
We hope to announce new dates soon, subscribe to our eNews to be notified when they go live. 
HOW MUCH DO THE PACKAGES COST? 
Please see individual event web pages for pricing and inclusions. Rates are quoted in Australian dollars and are inclusive of GST. Tariffs are per room for either one or two nights, and can be booked as a single, double or twin share (all rooms can be set as a king or two single beds). 
IS BUNDANON ACCESSIBLE? 
The new Bridge and Art Museum are wheelchair accessible and there are two accessible bedrooms available, both with wheelchair accessible bathrooms. There are designated accessible parking spaces available outside the Bridge and Art Museum. The Mordant Library is not wheelchair accessible. 
Arthur Boyd's Studio and the ground floor of the Homestead are wheelchair accessible. There is a staircase inside the Homestead and uneven ground in the visitor carpark and throughout the site.  There is no opportunity to sit down within the Homestead or Studio as the furniture is original and fragile, however there is seating available inside the Homestead kitchen and throughout the Homestead grounds. 
Guide dogs and assistance animals are allowed on Bundanon properties. 
CAN I BRING MY FAMILY? 
The Bridge bedrooms have been designed to accommodate a maximum of two adults and the experience packages currently on offer have been designed for adults. Upon request, guests are welcome to borrow a porta cot for a child under two, or an older child can accompany a single adult if the child is supervised during the entire stay. Please indicate when booking if traveling with children to ensure we can accommodate your requests. 
CAN I BOOK WITH A FRIEND OR TRAVEL SOLO? 
All rooms can be set as a king or two king single beds. You will be able to select your preference when booking. 
CAN I BRING MY PET? 
Bundanon is a wildlife refuge, surrounded by substantial areas of natural bush supporting many threatened native species. Guide dogs and assistance animals are allowed on Bundanon properties. All other domestic animals are not permitted. 
WHAT TIME IS CHECK-IN AND CHECK-OUT? 
Please check individual stay event pages for check-in and check-out times. A final copy of your itinerary will also be sent to you the week of your stay. If you are arriving later than 6pm, Bundanon must be informed in advance. 
ARE THE HOMESTEAD AND ARTHUR BOYD'S STUDIO AT THE SAME SITE AS THE BRIDGE AND THE ART MUSEUM? 
No, they are located at two separate sites. 
The Bridge and the Art Museum are located at 170 Riversdale Road, Illaroo, accessible by a 3km sealed road. 
The Homestead and Arthur Boyd's Studio are located at 533 Bundanon Road, Illaroo, accessible by 13km unsealed road which winds its way through bushland, descending to the Shoalhaven River basin. 
It takes approximately 20 minutes to drive between the two sites. 
HOW IS PRICING ARRIVED AT?  
A stay at Bundanon is like no other. Bundanon is in a remote regional location and the cost of delivery of overnight experiences is at a premium rate.  Bundanon offers overnight experiences as a unique opportunity for members of the public to stay on site and immerse themselves in Bundanon's diverse attractions, including its award-winning architecture, Art Museum and stunning natural landscape. Your stay at Bundanon also enables two children from local primary schools to participate in a day learning program at Bundanon. 
Stay up-to-date
Subscribe to hear when new stay events are available.